Microsoft Azure¶
Overview¶
The Azure plugin for Deadline allows for communication between Deadline and the Azure service. It works with both the Cloud Panel in the Monitor and the Deadline Balancer application.
Configuration¶
Before you can configure the Azure plugin for Deadline, you must add Azure as a provider in the Cloud Providers dialog in the Monitor. The Azure plugin requires only a few credentials before it can be used in Deadline (see the image below).
You'll also have to create a Management Certificate. You can use either OpenSSL or Makecert.
After you've created the both the .cer file and the .pem file you need to upload the .cer file to the Azure Management portal. (Settings->Management Certificates->Upload)
From there all you have to do to connect to Azure from within Deadline is enter your MSDN Subscription ID and a path to the .pem file you created. We recommend that you put this file in a location that is accessible by all machines that will be using the Monitor. Note: You can also install the certificate and use that as your certificate path but that is not necessary.
You can find all the highlighted settings in the following screens in the Azure Management Portal.
Azure Management Portal Storage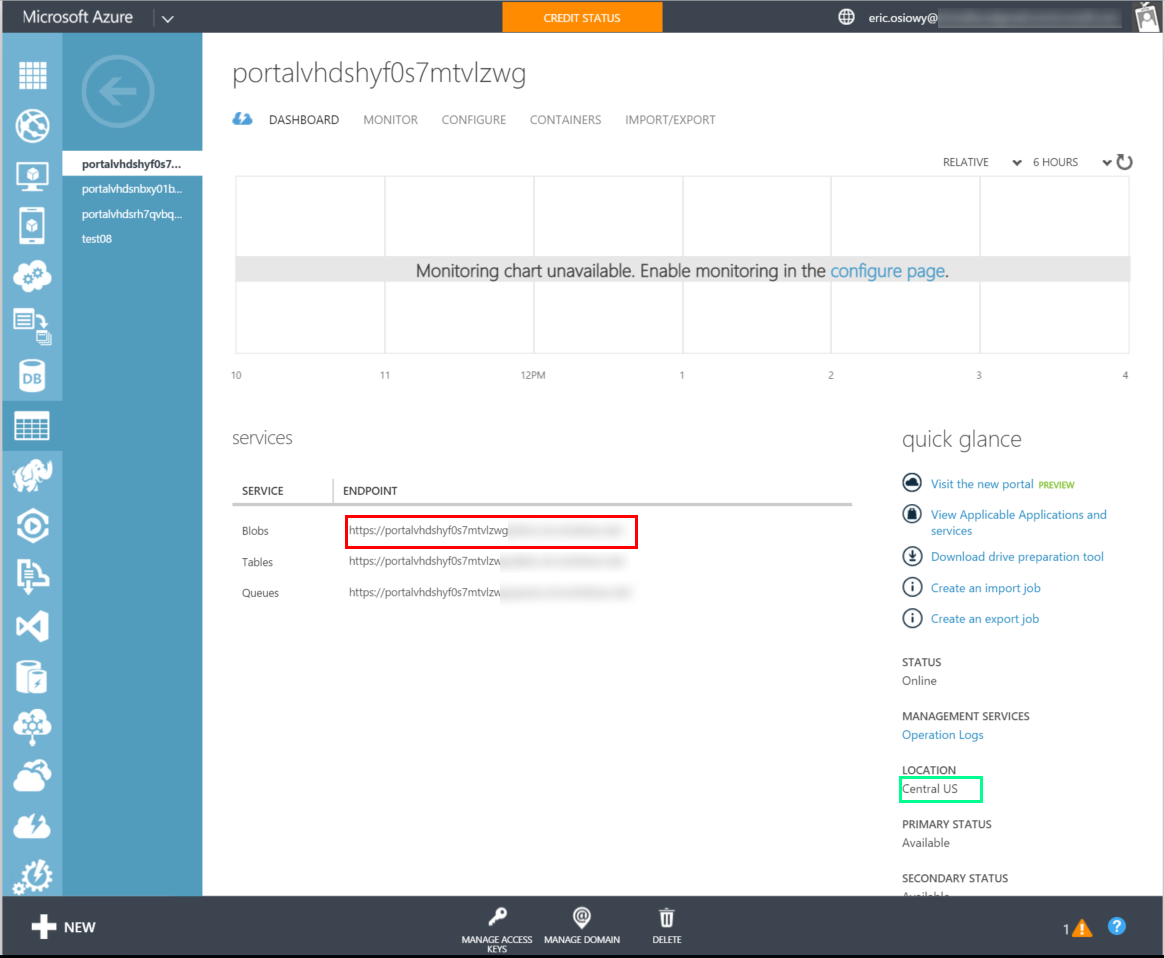 Azure Management Portal Network
Azure Management Portal Subnet
Configuration Settings¶
Enable Region: Enables the cloud region for use in Deadline.
Credentials
Subscription ID: Your MSDN Subscription ID for your Azure account.

Certificate Path: Path to your Azure Certificate.

VHD Blob Storage: The url of your Blob Storage. (Required for VM creation)

Blob Storage Password: Password for Blob Storage if you have one. (Required for VM creation)
VM Config
Affinity Group: The Affinity Group to start instances in. Can be used instead of Location.

Location: The Location to start instances in. Can be used instead of Affinity Group.

Virtual Network: The virtual network that the instance will be a part of.

Subnet Name: Name of the subnet that the instance will be in.

VM Login User: User name to login to the instance.

VM Login Password: Password to login to.
Customization
Instance Name: Name used when starting new instances. We add some random hex values to the end for uniqueness.
Error Messages and Meanings¶
This is a collection of known Azure Cloud error messages and their meanings, as well as possible solutions. We want to keep this list as up to date as possible, so if you run into an error message that isn't listed here, please email Deadline Support and let us know.
Currently, no error messages have been reported for this cloud plug-in.